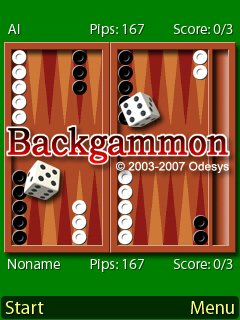 The Apple iPhone may have been designed mainly as a telephonic device, but we know that it is not the best mobile phones in the market today. In spite of lacking some points in the mobile phone area, however, the iPhone has continued to enjoy astounding success all over the world. It may be because of the name behind it – Apple – but many say that it because of the plethora of other features of the phone. Of these features, the ability to play lots of games is perhaps the most significant. Add to that the countless mobile game developers jumping into the Apple iPhone fray and you have got a jewel in your hands.
Naturally, backgammon is one of the most popular games for the Apple iPhone. Trivial Technology is one of those developers who have created various card games for the iPhone and recently, they released Backgammon Lite 1.5.0. OS 3.0-tested. So what's good about this most recent version?
It makes use of Bluetooth connectivity to allow multiplayer games! Imagine being to play backgammon with your friends who have their own iPhones. All you need is to connect wirelessly to each other and you're all set. This certainly adds a significant feature to the game. More so, the new version has been improved in the area of AI, making the games more real if you are playing with the "computer" and not another person.
Here's the best part – you can download the premium version for a mere $0.99!
Now THIS is great gaming news! What do I do now?
1. Subsribe to Gaming Moments!
3. Bookmark this post on del.icio.us
Comments